Introduction
Types of Social networks are digital platforms formed by communities of individuals with common interests, activities, or relationships (such as friendship, kinship, and work). Social networks allow contact between people and function as a means to communicate and exchange information
Social Media: Connect with people
Media Sharing Networks: Share photos, videos, and other media content
Discussion forums: Share news and ideas
Bookmark networks and content organization: Discover, save and share new content
Consumer Review Networks: Find and Review Businesses
Blogging and Publishing Networks: Publishing Content Online
Interest-based networking: Sharing interests and hobbies
Types of Social Networks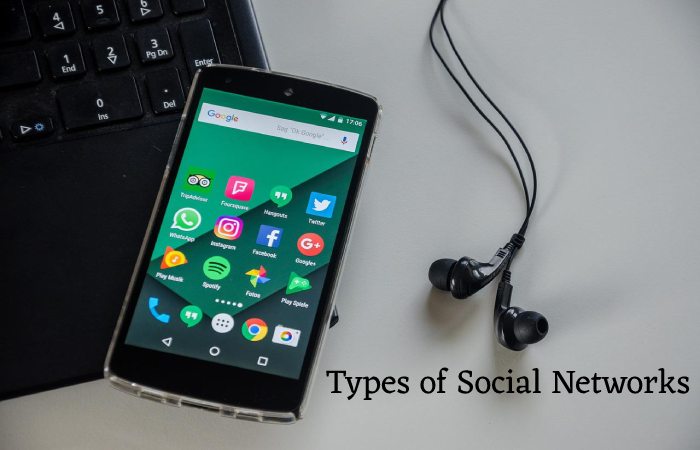 Social Networks Can Be Classified Into Two Types:
Horizontal or generic social networks. They are those social networks that do not have a specific theme but target all types of users. These networks function as means of communication, also information, or entertainment.
Vertical social networks. They are those social networks that relate people with specific interests in common, such as music, hobbies, and sports. For the sample, Flickr is a social net whose theme is photography.
Facebook
It is the most important social network in the world at the moment, so children are also registered in this system. It is a generalist network where we can find all kinds of people. This network's enormous amount of data and also personal information makes it the center of the debate about user privacy.
Google+
After its creation in 2011, it is already the second most popular social network after Facebook. It has integrated the Hangouts instant messaging service and all Google services such as Google Calendar, Google Drive, Google Docs, and contact list.
Spotify
With the popular reservoir of songs that can be listened to in streaming, Users can create playlists and also share them with others.
Twitter
One of the oldest social networks has been evolving in its characteristics. They have a marked informative and testimonial character. It allows you to create messages of up to 280 characters.
LinkedIn
It is a professional social network designed for users who want to find a job or foster work relationships. A profile is create in which the strengths of the users, also their work experience
A visual type network is generate to share images, and other possibilities have been include, such as creating videos. It is aim primarily at mobile use, and also users are uploading images relate to their lives, their jobs, and brands
Pinterest
Although  Pinterest  is one of the unknown social networks and attracts the least attention in the West, it has also 322 million monthly active  users  worldwide
What are The Most used Social Networks?
The position of the most used social networks is led by Facebook (87%) and YouTube (68%), the latter being the one with the youngest followers (76% are between 16 and 30 years old). Instagram, in third place, is the one that has gained the most followers (from 49% to 54%).
Conclusion
There is no doubt the most popular and also widely used platforms are social networks. These have changed in such a way that they influence not only personal and social connections but also the way of doing business.
Related posts